November 5, 2010 @ 12:59 am
Posted in Events, News
Comments
www.mediaparents.co.uk held a flexible working meeting in May attended by some of the employers and freelancers in media who support flexible working – a list of them can be found on this blog. Herefollows part 5 of a series of articles summarising comment from that evening.  Media Parents will be announcing another flexible working meeting very soon.
Laura Djanogly / Jessica Sharkey job sharing Directors of Production, Hat Trick Productions.
Laura – Joined HT as Head of Production in 2001 and began the job share in 2004.  Jessica had previously worked at Hat Trick as a freelance Line Producer.   In 2003 a heavily pregnant Jessica did some budgeting work for a newly pregnant Laura.  They got on well and realised that with their shared values and working practices they could make a job share work.  They went to Hat Trick management together and suggested job share which was accepted. The company realised that having two people with varied backgrounds and experience meant that they could cover all the genres the company produce in one role.
They follow the philosophy of  "It's not my job, it's our job". They have only one email inbox, as they both believe they have to be "one person" to lessen impact on others.  They didn't want anyone to have to repeat themselves, and things have to continue to move forwards. Handover notes are crucial and can be onerous, but serve as a good log and checklist.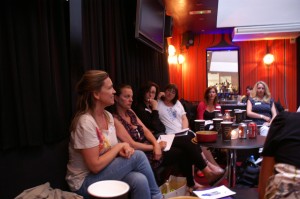 Laura: "Handover notes can be a review and analysis, which is necessary and good. You've always got a safety net then too. The company knew us both individually and that helped. Sharing the workload does increase productivity as we often feel guilty if we leave a problem unresolved, and neither of us feel we can have a 'coasting' day as it impacts unfairly on each other."
They have a hand over day on Wednesday when they are both in the office, and as Laura said, "it is nice to hand over to my work wife".  Jessica comes in fresh on Wednesday ready for the challenge.
"To have two minds on one problem is a good thing, and writing handover notes means a revisit and sometimes a resolve of problems too." To have two sets of skills and two sets of experience tackling one job is of benefit to the company. It costs HT half a day's extra salary, and has been going 6 years as a job share.
While there is no other job share at Hat Trick, there are flexible working hours held by people in various positions, including  senior employees working 3 and 4 day weeks.  Some PM jobs don't need to be 5 days a week, some can be part-time.  Since this meeting took place Justine Randle (see below) has been working 2 days a week at Hat Trick.
Jessica: "We're sharing the workload and therefore also the stress" (as they cover all productions at HT, a considerable amount). "There's also instant holiday cover!"
Justine Randle / Rachel Peters were job sharing Production Managers on The Bill at talkbackTHAMES.
Read on for more comment on flexible working.  Please feel free to add comment or email admin@mediaparents.co.uk to contribute to the blog on flexible working or best practice in media.  Thanks to Lorraine Molloy for taking the photographs and to Envy Post Production for hosting this event.