When Producer Viv Perry asked if she could take her 5 month-old baby to the Edinburgh TV Festival courtesy of the Media Parents Back to Work Scheme everyone's immediate reaction was "yes she can". Viv and Isaac took it all in their stride and caught up with Reggie Yates along the way…
My trip to Edinburgh for the TV festival was the first time I'd gone further than zone six since I'd had my son, writes Producer Viv Perry.  So, it was with some serious excitement and to be truthful, trepidation, that Isaac and I set off for the Edinburgh TV Festival thanks to the Media Parents Back to Work Scheme.  In short it was hectic, intense and totally worth it.  I don't plan to go back to work until Isaac is one so this was a great opportunity to meet the companies who'll be crewing up in the coming months, to think about where I'm going next in my career, and to keep up to date with how the industry's evolving.
I'm currently a producer and I received huge amounts of encouragement to take the next steps to achieve my ambition of being a series producer.  BBC Talent Manger Caroline Carter was incredibly useful in dissecting my CV and pointed out how I'd buried some of my key skills in dense descriptions of my roles.  Time to refresh my personal statement and bullet-point my achievements.
Likewise Edd Buckley – Talent Manager from Blast! helped me think through how to make those steps to build on my edit producing experience as the company likes to grow talent within established long-running series such as Supervet.
It was refreshing to think through alternative funding models for getting commissions off the ground with Noel Hedges from DRG – a company that specializes in acquiring programmes from producers to sell on.
In between nipping out to feed Isaac, I managed to make the most of the lecture programme.  Jay Hunt was upfront about her instinct to back programmes that didn't really fly the first time round – singling out Gogglebox and First Dates as examples of hits that took nurturing.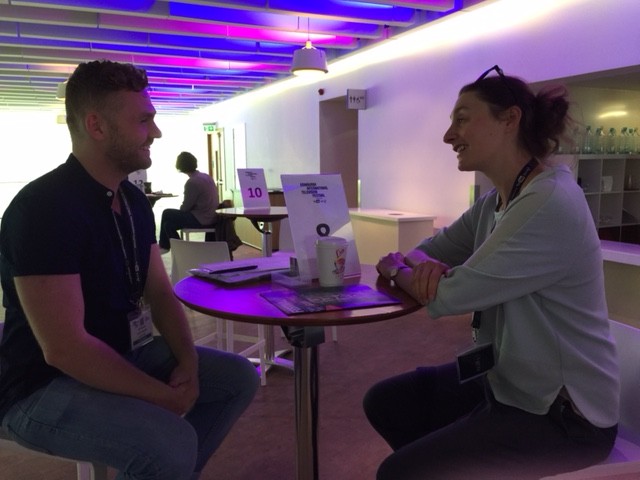 Combined with Ralph Lee's observation that a hit factual series is 'not subject driven, but is relies on place, precinct or process' I felt I'd gleaned a few nuggets towards developing a smash hit factual series.
I enjoyed the session on What Men Want and was pleased to hear Reggie Yates hold some of the panel to account – as he claimed that "TV is failing men, not content" – pointing to the fact that his contemporaries don't necessarily turn on the box to watch interesting programmes – there's a world of Netflix's and Amazon Primes competing with Dave and Top Gear!  I'd produced Reggie Yates in my radio days so it was great to catch up with him and see his work mature and become ever more incisive.
The festival has left me excited to return to work next year and raring to make the most of my Media Parents Back to Work Scheme mentorship with All3Media – having chatted with Sara Geater who couldn't have been more supportive of my return to work.
http://www.mediaparents.co.uk/freelancers/13412/vivienne-perry
September 17, 2016 @ 9:45 pm
Posted in News
1 Comment