September 20, 2018 @ 12:23 pm
Posted in News
Comments
I am always looking to find out what the shape-shifting, latest incarnation of TV looks likely to be. I was in Edinburgh to reboot my career having had a year off looking after my son, writes Director Emma Bodger, so it was fantastic that many of the sessions were so forward facing. Two great sessions stood out, reigniting my dual passion for storytelling and exploring innovative spaces.
The YouTube Originals session with Luke Hyams was a hit, not least, because it was the only session that ended with a mass selfie. I am now the proud owner of a Cobra Kai bandana (If you haven't seen it Cobra Kai is the reboot of the Karate Kid franchise which has had over 40 million views on its first episode – check it out on YouTube).
Of course the burning question is what does Luke want to commission? Simple! YTO are looking for "personality driven authored pieces that have international appeal that take you into a world you haven't seen before". He showed Left Bank Pictures' new sci-fi show 'Origins' as his drama example. Demonstrating high production values, it was a good illustration of audience and commissioner expectations of a premium show behind YouTube's pay wall.
YouTube doesn't have the same demands of linear TV schedules so although working in forms the audience will recognise, 30' serialised comedy (ie not sitcom – it's all about getting the audience to return), 60' dramas and 90' specials and films.
Although short form is not a priority on the premium channel, some things remain. "One of the main differentiators and one of the great pleasures of making a show for YouTube" is that the audience is able to comment. "It's a way to get real and direct feedback from your audience" and the good news is, it will still be part of the functionality on the premium service.
In another inspiring session, Caressa Douglas from BEN was talking with Samantha Glynne – VP of Branded Integration at Freemantle and David Eilenberg Chief Creative Officer at ITV America in a session all about  "How to Cash in on the Streaming Gold Rush".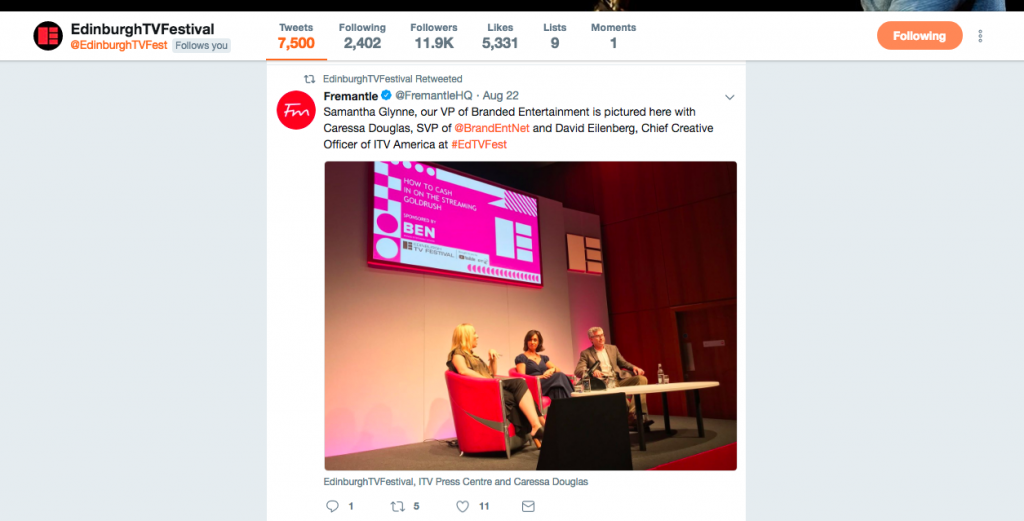 Samantha was keen that producers should remember "that 'commercial' is not a dirty word."
There is a certainly a stigma in the UK around "product placement" that needs to be broken down even though producers are happy to pitch content to commercial channels funded by advertising. My big takeaway was the reinforcement that the partnerships must make sense for the brand, the producers and the audience/consumers. The panel were passionate that any brand integration into content needs to be bold and authentic. It fails where the brand of the show is compromised by including 'subsidiary brands' that are not the right fit.
What is super exciting about this new space is brands are now recognising that being inside content brings "an emotional impact" that a 30 second spot can never give them so they need producers as much as we need them. There are cultural shifts that probably need to happen. Sponsors are used to using ratings points as the biggest indicator of ROI, so clearly this thinking will need to modified as we find new models of funding content. But Caressa pointed out that already, big, global-thinking brands are getting switched on to the fact that the phenomenon of binge watching can lead to greater recall of product. It's not just about impressions any more, it's also about engagement. Great news for storytellers!
Although most of the examples were factual entertainment (I was amazed how many brands there were in Love Island!), there is lots to think about when pitching scripted and it made me think back to my super proud moments from my Emmy Award winning work in Kenya in a parallel universe where we were embedding sponsored, behavioural change messages, making careful choices to protect the storyworld/brands and the characters from not saying or doing things just because the sponsors asked for it but making sure all integration was true and authentic to both the characters and the world.  I feel have a lot to offer in this space and a wealth of multiplatform past experience to build on. Being at the Festival gave me the opportunity and the space away from family responsibilities to reflect on that. The future is looking bright…
https://www.mediaparents.co.uk/freelancers/14708/emma-bodger