July 3, 2018 @ 7:45 am
Posted in How To, TV Returners, TV Training
Comments
Emma Reeves is an award-winning writer working across stage and screen. Her TV Children's credits alone include The Worst Witch, Eve, The Dumping Ground, Young Dracula and The Story of Tracy Beaker. She has won Writers Guild Awards, RTS Awards and been nominated for both Children's Baftas and a Broadcast Award. We have worked together before and there's very little this lady doesn't know about Children's drama, writes Returning Script Editor Becky Evans. I was extremely pleased to learn that Becky had agreed to be my mentor courtesy of the Media Parents HETV Drama Return to Work Programme.
A nice lunch in the bar at BAFTA gave Emma and me the perfect chance to catch up, reminisce about past projects and begin plotting a return for me. Emma is the perfect mentor because she has been able to offer the relevant names and contacts from a variety of companies within the Children's field. It certainly hasn't done me any harm to mention her name as my mentor either! She has made my CV mailout a whole lot easier and it's been really encouraging to link to the right people straight away without feeling like your CV is floating across a lot of the wrong departments. New contacts in hand it's been left to me to do the ground work so the last 6 weeks has been emails, calls and the odd meeting to refresh old connections and make some new ones. It's fantastic to know that Emma has her ear to the ground on my behalf too and always at the end of a phone if I need a pep talk!
So far the reaction to my CV has been very positive and it's been a great boost for my confidence to know that my skills are still very relevant and of interest to Producers. My recent placement at Kindle Entertainment, also organised by Media Parents, has really helped bridge the parenting gap on my CV. An expression I've heard a few times after various meetings and chats is 'Good Script Editors are thin on the ground! Looking forward it's now all about the wait to be remembered when the new drama pitches have been signed off and the productions start crewing up. The Script Editor is usually the next port of call right behind the Producer once a drama leaves its development home. Make your CV memorable enough, impress where you can and with a bit of luck the phone will ring when they need someone with your skills!!
Emma Reeves, Writer
Media Parents HETV Drama Return to Work Mentor
'I worked with Becky a few years ago on a British / Australian co-production for CBBC, 'Dead Gorgeous'. I very much appreciated her talent and attention to detail as a Script Editor. The demands of the business, especially on continuing drama, can make it particularly hard for working mums (mums are still too often the "default parent"). Good Script Editors like Becky are hard to find and it's time the industry recognised that they need to move to more flexible working conditions if they are not to continue to experience a major talent drain. Script Editors can work effectively from home a great deal of the time, making it easier for working parents to fit work around school runs, etc. I know that the response to Becky's CV has been very positive and I'm sure she'll find the perfect job'.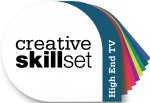 Click here to apply for the Media Parents 2018 Back to Work Scheme Media Parents Back to Work Scheme Form 2018.