September 12, 2014 @ 12:49 pm
Posted in News
Comments
As I try and write this with a baby squeaking in my ear, and a toddler hanging off my leg, I'm reminded of how I nearly didn't apply for the Media Parents/GEITF Back To Work Scheme in the first place, writes Anna Coane. I wasn't planning to return to work until September, this was too soon, I was still breastfeeding (a tiny bit), what about childcare, and I'd have to tweet and blog (tremble!). No, it would all be too 'tricky'. And anyway there'd be drinking, and I wasn't sure I was very good at that anymore.
Then I realized that this would probably be the last time I'd be eligible (two kids is enough for me thanks), and I read an article by Harriet Wallace who also nearly didn't apply last year, and wrote about landing her 'dream job' as a result. That sealed it, 'just do it' I thought, if I get a place we'll make it work, somehow.
So I was amazed and delighted when I did win a place, even more so that it was sponsored by Endemol – I've worked for them several times, they gave me my first job back after my first child, and my first job as an Edit Producer.
At home, we did make it work, somehow, and a few days later I found myself at Gatwick, marveling at the smallness of my suitcase, and at how all the clothes in it were mine – it had been a long time since I'd travelled without kids in tow!
Once in Edinburgh it was a delight to meet the other five Back To Work participants – all returning to work after career breaks of varying lengths, taken for many different reasons. We all met with Amy Walker, Media Parents Director, the night before the TV festival started and professed nervousness at the dreaded networking, but we needn't have worried. Amy's networking suggestions were a really helpful prompt, as was her reassurance. The festival, it turns out, is a unique bubble where, once you're prepped for it, the potential awkwardness and self-consciousness of networking is largely removed. At GEITF it's normal to bump into old colleagues/friends and catch up, or meet someone totally new and start chatting. There's a delegate list/portal, which offers unique access to people who might ordinarily be too busy/unknown to you to respond – you just email someone you'd like to meet, and chances are you're chatting with them over a coffee before you know it – Media Parents is a great calling card.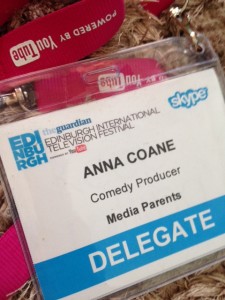 Being an experienced Producer/Edit Producer of comedy and entertainment, including scripted, I gravitated towards these workshops so I've listed the top tips I picked up:
I've edit produced quiz shows ('Pointless', 'Tipping Point') so I was curious about the quiz show masterclass run by my mentor company Endemol and commissioners from BBC (Pam Cavannagh) and C4 (Justin Gorman). They imparted to us their top tips for making a great quiz show:
-          Don't have too many rules, think about a narrative arc, and consider every eventuality.
-          Run-throughs are essential – play the game with people invested in the idea as well as those who aren't, and get someone to try and break it. If it comes alive in the run-through you're probably onto a winner.
-          Know your slot – daytime quizzes need to have a simple proposition and the play-along factor, good questions, interesting factual information and charm. A primetime quiz tends to involve more celebrities and needs to have a broader appeal, a quiz show for people who don't like quiz shows.
-          God is in the detail – real contributors can be tricksy and will want to beat the game and, naturally, take all the prize money. You can't re-take a round, and question verification is crucial (and must take as long as is needed, which is tricky if you are live). And always make amends if you get it wrong.
-          Development never ends – the first series isn't necessarily the finished product, you'll always be tinkering. Bringing contestants back repeatedly builds story. The choice of host is really important but the show itself is the most important concern.
I discovered a great opportunity for aspiring comedy writers in the 'BAFTA Rocliffe New Comedy Showcase'. Each year 5 short scripts are chosen by a top industry jury from an open callout and are performed in the UK and New York, as a showcase for future British comedy. Previous winners have gone on to get commissions from broadcasters in the UK and the US. If you're an as-yet un-commissioned comedy writer it's got to be worth a shot!
A discussion about what it takes to get great drama commissioned in the UK – Simon Maxwell (Head of International Drama, C4) said that the international funding and the UK talent is there, and took us through his criteria for commissioning – is it a brilliant idea, could it be right on C4, and would it attract a European or international audience? Crime fiction travels very well internationally, he said, even more so now that the American audiences seem to have got over their aversion to subtitles. The differences between the US and UK production systems were examined, as was the role of the writer/producer or 'showrunner', common in the US.
Equally interesting was the 'Jed Mercurio Line Of Duty Masterclass'. The Line of Duty writer spoke about the writing process, overcoming script issues, making bold decisions to kill off popular characters, and casting dilemmas. He also revealed that initially he found it very hard to be the writer, and get the powers-that-be to let him also produce. He was shocked on his first show ('Cardiac Arrest') at how excluded he was, as a writer, from the production process, so on his next show he secured the job of medical advisor (he's a former doctor). After this he was able to negotiate a producer role on the next project – the role of 'showrunner' cropped up yet again.
'Tales From The Casting Couch – How To Find The British Peter Dinklage' hosted by Rick Edwards looked at the under-representation of disabled actors on screen. The panel blamed a failure of imagination and a lack of opportunity and auditions for disabled actors, resulting in an uneven playing ground. Both Sky and BBC have announced their intentions to enforce quotas, but the panel expressed mixed views on whether or not they are a good idea. Andrew Newman (Chief Exec, Objective Productions) suggested any quotas should be applied to the access to auditions and not on the results, which he said would stifle creative decision-making. But Kahleen Crawford (Casting Director) pointed out that the industry has been talking about diversity for 10 years and the stats regarding under-representation still haven't changed.
The 'Game Of Thrones Masterclass' was exciting – Samwell Tarly himself was on the panel (by which I mean actor John Bradley was there!) as well as Mike Lombardo (President of Programming, HBO) and Zai Bennett, the new Head of Sky Atlantic (former Controller, BBC3). Mike defended some of the decisions they made to change certain aspects of George RR Martin's books, while also revealing that he still hasn't read any of them because he prefers to react to the TV scripts as they come in. George is an exec on the show and is sent every script, but it is the 'showrunners' (here they are again) who ultimately take control.
Being 'Inside The Minds of Steve Pemberton and Reece Shearsmith' was a joy. They discussed the writing process, and how they have always tried to pursue excellence, a high level of craft, including slick scene changes, even in the early days performing at comedy festivals. They always do a final 'gag pass', to see if any more jokes, particularly visual ones, can be crow-barred into a scene. They talked about how their most distinctive characters originated and developed (Pauline was originally played by a woman, didn't work at all). They spoke of how hard it is to mix horror and comedy – it's either too scary to be funny or the other way round, a fine line that they have walked throughout their careers. And they revealed that there will be more 'Inside No.9' coming soon…
The Ed talks (a series of TED Talk-style lectures), scheduled on Saturday morning (when a lot of people seemed to have already gone home) turned out to be an unexpected highlight for me. They were surprising, interesting and inspirational and covered topics such as 'Where does creativity come from?' and 'Overcoming a lack of diversity' (with Gurinder Chadha, director of 'Bhaji On The Beach'). Steve Edge, successful artist/designer now in his late 50s, strode on sporting wild hair, enormous specs, and a very loud suit to tell us about how, despite severe dyslexia, he went from humble beginnings in the East End, to working with Jim Henson, Spielberg and George Lucas before setting up his own design agency. He shared his tips for creative success, basically – don't wait, just do it now, don't worry about what other people think, and don't be afraid to fail: "don't wait for a special occasion to wear your best outfit, wear it every day and the party will come to you, and you will have an amazing time", he told us. Then, unbilled and to everyone's surprise, Jon Snow padded onto the stage (not the 'Game Of Thrones' one, the news one). He talked about the impact and pros/cons of social media, remarking that lately the world at large seems to have more information about news events than governments, that in his opinion we are either on the precipice of something very exciting – a fantastic revolution brought about by the democratization of information, or of total anarchy. It was quite a morning.
The festival closed with Richard Osman in conversation with 'Scotland's Jesus' Frankie Boyle. Richard confronted him about 'those jokes' saying that it looked to him as if Frankie had got too powerful, that producers didn't feel they could censor him, that he would have never allowed 'those jokes' to make the edit. Boyle replied that he doesn't regret the jokes, that comedy commissioners these days are too scared of content, their main motivation being to avoid controversy: "There's a layer of people whose job it is to reject things, and unfortunately that layer is at the top", he said. He spoke about the lack of women on panel shows, and quotas, saying that proposed quotas still get it wrong, it should be 50/50, then the onus would really be on the programme-makers to unearth female talent. He asserted that the BBC should sack Jeremy Clarkson, "a cultural tumour", and reflecting on Boris Johnson's public school education he concluded that he must have evolved his fringe "as some kind of makeshift cum shield".
And on that note the festival came to an end.  As men with power tools dismantled flattage around our ears, one of the other media parents and I sat drinking tea and reflecting on the festival and the Back To Work Scheme. Had it all been too 'tricky', and had I forgotten how to drink? 'No', and 'not entirely', it turns out. I'd missed my daughters like mad, but they'd had a great time with Grandma. Plus I'd spruced up my CV, overcome my Twitter aversion, re-connected with old friends and colleagues and met lots of potential new ones. I've renewed my focus and excitement about comedy and entertainment, especially scripted and semi-scripted, and what's also great is that the mentoring, from Amy and from Endemol, is ongoing. So with inspiration fired, new contacts made, and numerous meetings on the horizon, all in all it's a good job I thought 'just do it' and hit 'send', at the very last minute.