January 16, 2013 @ 12:50 pm
Posted in News
Comments
PD / Camera Operator Phil Broadhurst writes about his latest gig, biking across South Africa with Charley Boorman.
Last year I spent eight weeks in South Africa on the road with Charley Boorman for a 4 x 60' series for Five. We started off in Cape Town and headed through every corner of the country on motorbike, covering a total of 10,000km, before finishing up in Cape Town again amid a massive convoy of fellow bikers.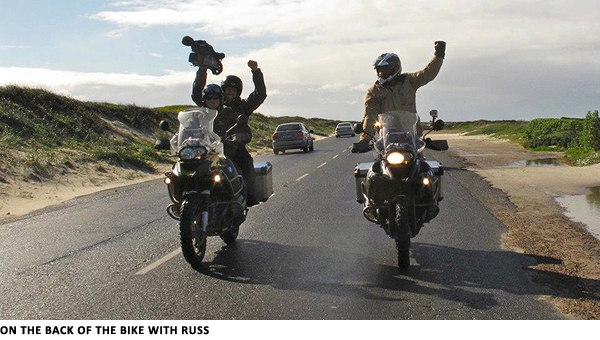 Last week's episode saw Charley abseil off Table Mountain, visit the prison on Robben Island and cage-dive with great white sharks in Gansbaai. Tonight we are having adventures in the Drakensburg mountains!
First we pick the coldest day of the year to attempt to drive up the Sani Pass into Lesotho. It's a steep dirt road cut into the side of the mountain – get it wrong and you'll be sent careering into the abyss. Parts of the road are in shadow all day long and are so thick with ice that even standing up becomes impossible. At one point I am out of the vehicle (luckily!) filming when our driver gets it all wrong and nearly goes backwards over the edge. Next we head out on a trek to camp out at the top of Tugela Falls, the second highest waterfall in the world, pitching our tents on the snow at the top of Sentinel Peak.
The route takes in some grim chain ladders with frozen metal rungs bolted into the rock-face, and all the crew have to climb them in a keen icy wind. We spend the night freezing under the stars in a howling gale but are rewarded with a pure morning of stunning vistas.
We had an awesome, supportive crew on this series, both in London and on location, which is so important on a show like this when you are working to a flexible schedule and spending literally every waking hour together – it was a joy to shoot!
Episode 2 of Charley Boorman's South African Adventure TX's tonight at 8pm on Five.
http://www.mediaparents.co.uk/freelancers/327/phil-broadhurst
I am a creative self-shooting PD with specialist factual, natural history and obs-doc credits. I am a calm and diligent director, combining strong editorial skills with exceptional photography. I've had work through Media Parents
• Credits for BBC, ITV, PBS, Discovery, National Geographic, Animal Planet and Five
• Filmed extensively overseas. Expedition trained. Valid I-Visa for USA
• Worked with HDCAM, P2, XDCAM, Varicam, DSR, XF305, EX3, GoPro's
• Also skilled at timelapse, mounted/hidden cameras, jib/crane work, IR & camera traps
• Experienced working with animals/wildlife, including long-lens/high-speed work
• Able to manage own sound/lighting if required
• Methodical and reliable location data manager