I'm a Series Producer, PD and Edit Producer – and work mostly in obs doc and factual. Over 15 years of working in the TV industry in London and internationally, I've worked across different genres: from current affairs to obsdoc to reality TV. I've filmed Lifeguards in Bali; Asimo the robot in Japan; and scientists working in the cocoa plantations of Brazil.
I've recently moved back to London after an 8 year stint working in Australia. I began my career in London – but packed my bags after 5 years to see what the rest of the world had to offer. It took me 8 years to return… but when you find yourself spending your days working on Bondi Beach filming an obs doc about the Bondi Lifeguards in 30 degree sunshine, where's the hurry to leave??
When I arrived in Australia, TV production wasn't quite as slick as the rest of the world. Even now, mainstream news can be fairly insular. But I believe that Australian Production is now very strong, and there are many brilliant TV minds and creative talent out there. Production standards have risen and there are loads of great shows coming out of Australia. Australia has it's own versions of the big formats: The Voice, X Factor, Australia's Got Talent, The Biggest Loser, Dancing With The Stars, Masterchef. (Masterchef as a stripped show was devised in Australia of course). It has many big international hits like Bondi Rescue, Bondi Vet, Surf Patrol and many others. And many great productions like Go Back To Where You Came From.
The Australian TV industry is of course a smaller industry than the UK, but then it's a smaller country… in terms of population! I'd say one of the big differences in terms of TV production is that PDs tend to shoot with crews still rather than being self shooters. There are of course some excellent self shooters in Australia and they are being used more and more as time goes on. But for now, it's more usual to shoot with a crew. I've also found that the PD role is generally split into 'Field Producers' and 'Edit Producers'. Sometimes there's the luxury of filming a show and taking it through post, but often with tighter schedules those roles on a production are split. Also some of the terminology is a bit different – and I've had to translate exactly what I mean in the Edit when I talk about 'grabs' instead of 'interviews'.
Since being back, I've had to make new contacts and work to get a foot in the door back in to the UK industry which I'm slowly managing to do. Media Parents was a brilliant find for me, and it's through this site that I got the job on Worlds Scariest Series Two.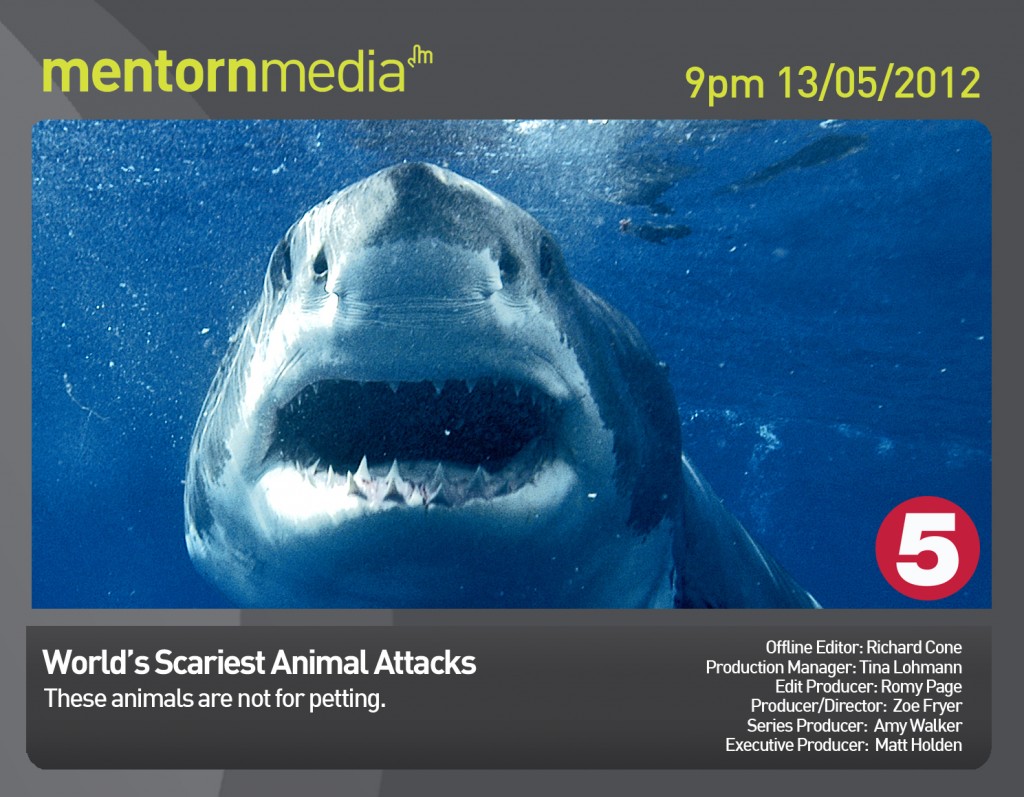 As Edit Producer on World's Scariest Animal Attacks, I took up the mantle from Director Zoe Fryer who had done a brilliant job at PD-ing this show. An invaluable week's prep time prior to the edit meant I had an in depth handover with Zoe Fryer and AP Jon Hancock, time to get to know the ins and outs of the show, and time to write edit scripts for four of the ten stories in first draft form. I also managed to pick the brains of the other very talented PDs who had worked on the first series, so I was as prepared as I could possibly be stepping in to the edit.
Going in to the edit, it always takes a few days to fall into a rhythm of how you work with a new editor. But working with Editor Rich Cone was an absolute pleasure. We immediately found a way to structure our days, rough cut a story per day – and have a good laugh while we did it. We then had time to refine – and hopefully you'll agree make a great show!
I had a great time working on World's Scariest, with such an incredible team. I hope the opportunity comes up again. In the meantime, I'm looking for work, so do get in touch if you need a producer with a slight Australian twang…
http://www.mediaparents.co.uk/freelancers/2815/romy-page
May 12, 2012 @ 11:45 am
Posted in News
Comments Off