November 7, 2014 @ 1:27 pm
Posted in News
Comments
"After becoming a dad nearly four years ago it has been quite an act juggling work and childcare", writes Composer Jamie Farnell-Warren. "Quite apart from this I am very sorry to report that composers, of which I am one, are feeling rather unloved presently."
"The rise of the behemoth that is 'The Music Production Library'  hasn't helped us much by spewing great masses of cheap music into the factual world of programming. Libraries do have a part to play but they pay composers very little and only the person who owns the library really makes any decent money. As  freelance composers we are seriously struggling to compete. I know there are some great directors/producers out there who still value composers and the music we create and I have worked with many of them so many thanks to you. So my message is if you invest so much time on making a great film please invest in a person and some original bespoke music and release your editor from spending 12 hours sifting through 1000 library pieces.
We are also actually quite a bit cheaper than you might think."
I have composed for factual/film and documentary and as a member of the BBC Worldwide Composers group and from that I'm asked to pitch on many upcoming BBC productions. I was asked to compose the soundtrack to  the six part series 'INDIAN OCEANS WITH SIMON REEVE' for BBC2 putting together an eclectic soundtrack which comprised huge orchestral scores, African vocal songs and everything in between!
Following on from this my next BBC4 series 'BULLETS BOOTS & BANDAGES' also highlighted  the diversity of my work moving from huge orchestral themes through to delicate piano sonatas.
As a result I was asked to compose the quirky soundtrack for the BBC1 show 'ALLOTMENT WARS' through 'WILD PICTURES'.
 I've also worked on many US shows and have had music featured on  'AMERICAN IDOL', 'SO YOU THINK YOU CAN DANCE'  & 'THE SQUAD PRISON POLICE' to name but a few..
Have a listen/watch to my music show reel and if you do require an experienced composer on your next project please drop me a line or advertise your job with Amy on the Media parents website.
cheers
 Jamie
http://www.mediaparents.co.uk/freelancers/7833/jamie-farnell-warren
www.jamiefarnellwarren.com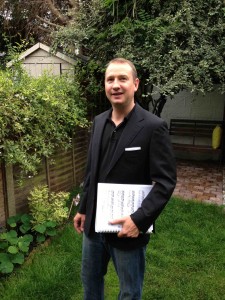 Recent Credits:
ITV1 1 x 45mins 'Man to Manta with Martin Clunes'
BBC2 6 x 1hr 'Indian Oceans with Simon Reeve'
BBC4 3 x 1hr 'Bullets, boots & bandages'
BBC1  1 x 1hr 'Allotment Wars'
A&E
6 x 45mins 'The Squad'